My top tips for matched betting will help you to supercharge your matched betting profits. Matched betting is a popular method to make tax-free money from home in your own time. I started matched betting just over a year ago with just £10 and have turned this into £10,000 by now. In this article, I will tell you my secrets which I think were the key to my success. If you are new to matched betting, I recommend reading my simple matched betting guide first.
To ensure Monethalia remains free of charge, this post contains affiliate links.
Tips for matched betting
1. Set-up a Matched betting bank account
Before you start your matched betting journey (or right now if you have not done so), you should open a dedicated matched betting bank account. Trust me, you do not want hundreds of bookmaker transactions on your main current account's statement. You will look like a gambler and your bank may even start blocking your transactions. Plus, it makes keeping track of things impossible.
I recommend opening an account with Monzo. Monzo's current account is the most popular account for matched bettors as they allow gambling transactions. A good alternative to Monzo is Starling. Starling's User Interface (UI) is not as intuitive as Monzo's but apart from this, there are few differences between the two. As a bonus, Starling will also pay you a tiny bit of interest.
2. Set-up a Matched betting email address
Similar to having your transactions separate, you also do not want bookmaker offers mixed with your private emails. When doing matched betting, you may get up to 50 emails per day so you can imagine the mess this may cause! Opening a new email account is simple and only takes seconds so there is no reason not to do it.
I know I said you may receive a ton of emails per day. The key to time-efficient matched betting is learning which emails contain useful offers based on their subject line. Probably 90% of matched betting emails are junk offers or useless newsletters. If you are attentive, you will learn quickly how to tell good offers apart from junk and save a good amount of time.
3. Sign-up to OddsMonkey
It is hard to be a successful matched bettor without having access to an oddsmatcher. On your own, you can perhaps make a couple of hundred pounds a month but for everything above £500 having an OddsMonkey subscription is crucial.
OddsMonkey will cost you from £12.50 to £17.99 a month depending on your plan but will enable you to make up to £2,000 a month from matched betting. Note that £2,000 is not even the upper limit, although you would have to be very skilled or invest a lot of time to make more.
OddsMonkey further greatly reduces the time you need to commit to matched betting. Using the Oddsmatcher, you can find close odds within seconds, and you are also always up-to-date with the latest offers and price boosts.
You can read my full OddsMonkey review here or sign-up for a free trial here.
4. Link OddsMonkey to your exchange
OddsMonkey allows you to link its oddsmatcher directly to Smarkets. This means you can lay your bets with a single click. By doing so, you eliminate the risk of human error (laying the wrong market, the wrong amount or at the wrong odds).
Additionally, linking OddsMonkey to your exchange speeds up your matched betting, ultimately allowing you to place more bets and make more money. Being faster also means that it is much easier to place a bet on horse racing as these odds can change very quickly.
Some matched bettors complain that their lay bets with OddsMonkey did not get processed by Smarkets causing them to lose money. It is important to mention that OddsMonkey will give you a receipt after your lay bet has been placed. If you do not see this (e.g. because the odds have changed), then you need to lay your bet again. It is a very easy to use and foolproof process if you are aware of this. Personally, I never had any problems.
Click here to find out how you can be more efficient at matched betting.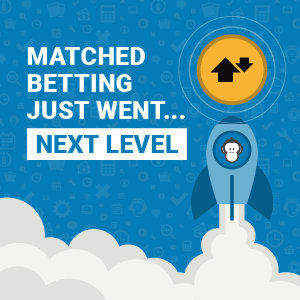 5. Take advantage of the 0% commission offer
Normally, you need to pay commission for placing lay bets. At the moment, Betfair charges 5% and Smarkets and Matchbook 2%. This is how betting exchanges make their profit. However, as OddsMonkey member, you are entitled to 0% commission with Smarkets and Matchbook.
Paying commission can really eat into your matched betting profit. On Betfair, you would lose £5 for each £100 layed. If you lay £400 a month, this would equate to a £20 loss. Smarkets and Matchbook charge less, but you are still losing money.
Given that OddsMonkey costs at most £17.99 a month, the subscription essentially pays for itself for most matched bettors. Hence, unless you are a very part-time matched bettor, OddsMonkey actually increases your profits despite its subscription fee.
Obtaining access to the 0% commission rate is super easy. All you have to do is link OddsMonkey to Smarkets and lay the bet via the integration. OddsMonkey has tutorials available to help you.
6. Track your bets
Tracking your bets is super important to stay organised. If you do not track your bets, you will likely miss out on free bets, double qualify for offers and get yourself in a mess. On some days, I have up to 50 open bets and I would be completely lost without a way to track my bets.
I am using the OddsMonkey profit tracker to record my bets. This allows me to log bets directly from the calculator or the oddsmatcher and is the least time-consuming way to track your bets. Other matched bettors prefer to record additional details or like to be more control. For this, you can set up a simple Excel spreadsheet. If you do not have Excel, there are free alternatives such as Libre Office.
Believe me, tracking bets is super simple, but trying to clean up the mess if you do not track your bets is not.
7. Be consistent
Being consistent is one of the most crucial aspects of matched betting. Many offers do not provide guaranteed profit e.g. 2ups, horse refunds and low-risk casino offers. However, they still have a positive expected value (EV). This means that in the short term you may lose money, but in the long term you will most likely make a profit.
Imagine you complete an offer in which your horse has to be second in order to obtain a refund. You may do this offer ten times and not get a single refund. If you give up at that stage, all your qualifying losses (QLs) will be lost forever. So if you staked £10 each time and found 95% matches, you will be down -£5. Forever. You will not get these £5 back. Therefore, giving up to quickly will cost you.
However, with these offers it is important to distinguish between those in which have a positive EV and any loss of money is due to variance and those offers which are not worth doing entirely. Having a horse to place second or a football team to gain a two-goal lead are easily achievable conditions and are likely to happen often enough to make these offers worthwhile.
Other offers, for example, demand your horse to place second AND the starting price (SP) favourite to win. This is far less likely as you are essentially betting on two horses. I am not saying that you should not do these kinds of offers as (with very low QLs) they can still be profitable, but it is important to critically assess the importance you give them.
8. Diversify
This is one of the more important tips for matched betting. Many matched bettors find a few offers they are comfortable with and limit themselves solely to these. This is dangerous as the bookmaker might discontinue the specific offer, cease to trade, or you may find yourself becoming stake restricted. The matched betting world is constantly changing and to stay successful in the long term, you have to change and adapt, too.
Diversifying is also a key way to increase your matched betting profit. There is only so much money you can make from one type of offer. By adding more offers to your matched betting repertoire, you will automatically make more money.
Many matched bettors struggle to diversify. However, this is actually very simple. OddsMonkey's Daily Offer list has all available offers and you can just go through this list to find new offer types. I recommend learning each offer one by one to make sure you understand it.
9. Join a matched betting community
I really cannot stress the importance of becoming involved with the matched betting community enough. When I was a newbie matched bettor, I immediately joined different matched betting facebook groups. And this is really where I learned everything! Yes, OddsMonkey taught me the concept of matched betting but following on from this, I learned so much more from other matched bettors:
Firstly, matched betting communities are a good point of contact when you have questions or messed up placing a bet. You can, of course, ask the OddsMonkey support team, who are great at helping, but its really the opinions of other matched bettors that help you to understand that there can be different solutions for a problem. You can also benefit from their matched betting experiences and their tips for matched betting
Secondly, matched betting communities allow you to learn how to solve a problem before it occurs. There are always people asking questions and simply by reading the answers, you can learn more. This is what I am doing and it has provided me with a deeper understanding of matched betting. I would not call myself an expert and write these posts had I not learned from other matched bettors.
10. Take care of your accounts
As this article demonstrates, you can still make money with restricted (gubbed) accounts. However, the fact remains that it is better to have a clean and working account rather than a gubbed one. Therefore, it is important to have a long-term mindset and take care of your bookmaker accounts.
This means you should stay away from arbitrages (arbs), not overdo price boosts and not contact live chat more often than necessary. Occasionally placing mug bets can also help, although the evidence base for this is less strong.
Tips for matched betting summary
These are my top tips for matched betting:
Set-up a matched betting bank account
Set-up a matched betting email address
Sign-up to OddsMonkey
Link OddsMonkey to your exchange
Take advantage of the 0% commission offer
Track your bets
Be consistent
Diversify
Join a matched betting community
Take care of your accounts
If you like this post, help Monethalia grow by sharing it on social media using the buttons below. You can also sign-up to my newsletter by entering your name and email address into the top bar.
Jennifer