Updated in
In this OddsMonkey review, I am presenting the website that has helped me to earn nearly £10,000 within one year. When I started matched betting, it was more of an experiment and I never thought that it would become a lucrative side hustle.
Without OddsMonkey, matched betting would be so much more of a hassle and it would be impossible to make £1,000 a month in one or two hours per day.
This post contains affiliate links. Should you make a purchase or sign-up through my links, I will receive a commission at no extra cost to you.
Update: While I have been using OddsMonkey with great success, I am now recommending new matched bettors to use Profit Accumulator (free trial here). Read my comparison to find out why.
What is OddsMonkey?
OddsMonkey is a matched betting service similar to Profit Accumulator and Profit Squirrel. It offers support and all tools you need to be successful at matched betting. Most importantly, it takes away the hassle of having to manually search for close odds by automatically matching profitable odds between the bookmaker and the exchange.
OddsMonkey review – key details
| | |
| --- | --- |
| Free trial | Link |
| Money back guarantee | 30 days |
| Profit during free trial | ~£30 |
| Friend referral scheme | £15 per sign-up |
| Annual subscription fee | £150 |
| Monthly subscription fee | £17.99 |
OddsMonkey review – services
Tutorials and training
When signing-up as a new matched bettor, OddsMonkey's services can appear a bit overwhelming. Luckily, the tutorial section is helpfully labelled "start". In this section, there are six written guides walking you through the necessary steps to make your first ~£30. Video guides clarify the critical bits that beginners may struggle with.
Overall, the tutorials are written well enough for a beginner to understand and follow. The only odd bit I found in my OddsMonkey review was that it said to bet on a horse race or football match. I can see beginners struggling with quickly changing odds in horse races but, on the other hand, football is not always available.
OddsMonkey also has a separate training section which goes into more detail. This is separated into guides explaining how to use OddsMonkey's tools and how to complete reload offers. The latter is useful as many matched bettors to struggle when transiting between sign-up and reload offers.
Creating new accounts is easy enough but keeping the profit in long term can be challenging. Hence, OddsMonkey's reload guides are super useful and explain how to complete any offer.
OddsMonkey review – new account offers
In the beginning, most of your profit will come from new account offers. OddsMonkey has a comprehensive list of new account offers. Therefore, they are an ideal place to start out. However, some matched bettors may also find the sheer number of offers overwhelming.
Some offers are more complex or require more money in your exchange than others. I do think this is one of the areas OddsMonkey could improve by ranking the offers.
Matchers
Oddsmatcher
In my OddsMonkey review, I certainly cannot miss out OddsMonkey's key tool, the Odds Matcher. It allows you to always find the closest matched for maximum profit and saves a ton of time. If you were looking for odds manually, you certainly could not place 50 bets a day and would thus miss out on good money.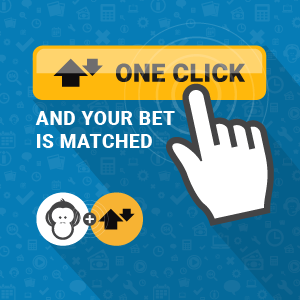 It is particularly useful that you can create and save different filters. For example, my default filter is set up to identify matches ideal for trigger bets. It will only show 95%-99.5% matches with odds of 1.5 to seven taking place within a day.
I then have separate filters for free bets and specific offers such as 2ups, Betstars/JenningsBet 80th minute, etc. You can also directly link Smarkets and Betfair to OddsMonkey, allowing you to lay bets from within the Odds Matcher.
Premade filters and integrated exchanges allow me to quickly place a large number of bets in my one hour of spare time after work.
Other matchers
Apart from the Odds Matcher, OddsMonkey also offers a range of other matching tools. There are guides available on how to use them in the training section. Ouf of the Matchers, the Racing Matcher, and the Extra Place Matcher are the most useful–and they are amazing.
The Racing Matcher allows you to quickly find horses with close odds sorted by offer. Horse odds frequently change so having a tool that allows you to monitor the odds without much hassle is crucial. You can also lay your bets with Smarkets directly from the Racing Matcher.
The Extra Place Matcher is useful for similar reasons. I could not imagine manually placing extra-place bets as the effort required to find close matches would just be too much. Many beginners struggle with extra-place offers and the OddsMonkey Extra Place Matcher makes it as easy as possible.
However, because of their nature, odds for horse races also change frequently. This is also the main downside of the Racing Matcher and the Extra Place Matcher. Sometimes, odds do not update fast enough and have changed dramatically just before you can place your lay bet. I guess there is nothing much OddsMonkey can do about it other than perhaps asking the horses to be less volatile.
The Tennis Matcher, Eachway Matcher, and Dutch Matcher are more niche tools. The Dutch Matcher becomes super important when completing tennis offers. The Eachway Matcher can be used for eachway arbing, although it is more efficient to search for arbs manually as the odds change very fast.
Accumulators
To be honest, I hardly use the Accumulator section outside of my OddsMonkey review. It is far easier to bet on a premade Acca on Smarkets than make your own.
However, should you want to build your own Acca, OddsMonkey can do the hard work for you and find suitable matches depending on the offer with the Acca finder. The calculator can be updated after each match and to adjust odds, so you always know your next lay stake.
There are also different calculators depending on your laying method (no lay, lay at start, lay sequential, lay sequential lock-in). I know people make decent profits from No Lay Accas so they may find the Acca EV calculator useful.
Personally, I think it is good that OddsMonkey offers these tools but I would rather have matcher that matches Smarkets premade Accas with the respective bookmaker offer.
Calculators
OddsMonkey has 15 different calculators available:
This is everything the average matched bettor needs and more. In fact, it is so much more that it is easy to get confused. Again, as a paid matched betting service, I think OddsMonkey should offer all these tools as it caters to different levels of matched bettors. And in case one of OddsMonkey's Matchers stops working while you are in the middle of placing an offer, at least you can then use a calculator to manually finish.
Most importantly, there is a calculator for almost any situation. And if there is not, OddsMonkey offers additional spreadsheets.
However, I do think this section could benefit from better organisation. For example, the Unwanted Lay Calculator can be a total lifesaver if you mess up, but many people are not aware that it exists. Looking at the OddsMonkey forum, users often struggle to use the Trigger Bet Calculator and the Win Bonus Calculator correctly and much could be avoided by providing extra explanations. (There are guides but people tend not to see them.)
Profit tracker
OddsMonkey has a built-in profit tracker that keeps a record of all your bets. You can add new bets to it simply by clicking a button in the Odds Matcher or most of the calculators. Hence, this is another super time-saving tool. I also take the data for my matched betting profit reports directly from here.
Overall, the profit tracker is adequate and fit for purpose. However, there is room for improvement. I know many matched bettors who keep their own spreadsheets as the profit tracker does not facilitate data analysis. You can filter your bets but to analyse the profit of one particular offer over time, you would have to export the data and do some manual work.
You can see below that today was a very profitable day for me with a grand £1 profit. This is because I have been writing this post and does not represent my daily average. Please also note that I was abroad for most of July and hence, my profit for this month looks pitiful. Let us hope August will be better!
Daily offers
Another brilliant tool of OddsMonkey included in my OddsMonkey review is the Daily Offer Calendar. This is were matched bettors find out about current offers without having to search each bookmaker manually. I have over 90 bookmaker accounts and could not possibly check them all myself every day.
This is where OddsMonkey comes in and does the hard work for me. I usually quickly scan this list, bookmark all relevant offers and work through them.
Note that, while the Daily Offer Calendar is a great help, it is not complete and all-knowing. Sometimes offers are added later or not at all, so you will still have to do some searching yourself (although you can make a decent profit just with the Daily Offer Calendar).
There is also a section in the forum, in which OddsMonkey members post additional offers. However, I still rely on Facebook groups to ensure I capture all profitable offers.
Community
OddsMonkey has a famous Price Boost No Chat and Casino Offers No Chat thread in which members post profitable price boosts and casino reloads, respectively. These are kept free from chat so you can either turn notifications on or connect your mobile phone to the threads via PushBullet.
Price boosts are only short-lived so the Price Boost No Chat thread helps to get hold of them quickly. Although the number of posts per day, and therefore the number of price boosts, is lower than in the Profit Accumulator forum, you can still make a decent profit every day.
Price boosts may be an easy profit source for newer matched bettors, but over time, they lose in importance as the number of gubbed accounts increases.
OddsMonkey review – support and site performance
OddsMonkey offer incredible customer service and support. Once a certain bookmaker overnight changed the terms of a profitable offer and I had already placed my bet using the win-bonus calculator.
There was no way to work out how to adjust my lay stake, and of course, the odds had also changed which did not make it easier. I was ready to write-off my £40 but then the OddsMonkey support staff provided me with a custom made spreadsheet highlighting how I could still make a profit. I did not expect this level of service and to date, I remain impressed.
The website generally loads quickly and the Matchers function well. However, during peak times, there may be delays. I remember last March during Cheltenham when OddsMonkey was down for a whole 15 minutes during lunchtime. Cheltenham is the single biggest matched betting event and probably every user was trying to get their bets in.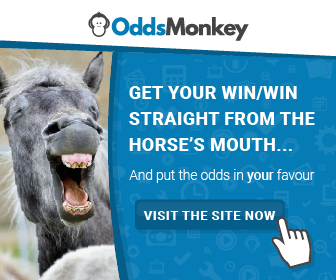 OddsMonkey review summary
OddsMonkey is a matched betting service that helps you to find reload offers. For beginners, OddsMonkey offers all necessary guides and tutorials and provides a comprehensive list of new account offers. More advanced matched bettors will value the Daily Offer List and the variety of matchers and calculators.
Without OddsMonkey, matched betting would require a lot more time and I could not possibly make the profit I am making right now. OddsMonkey can tremendously reduce the time you spend matched betting.
My OddsMonkey review aims to be fair so if you have any critique you feel is missing, let me know in the comment section.
If you like this post, help Monethalia grow by sharing it on social media using the buttons below. You can also sign-up to my newsletter by entering your name and email address into the top bar.
Jennifer